Ari selasa lps, ensuami jnji nk bwk g theobroma.. 430 aku dh pecut kereta amik ensuami kat opis.. Jem pun jem la.. Aku gasak juge demi cita2 aku nk mkn cni..
Smpi sunway dlm kul 6.. Kua lif nmpk cermin besar, sy sgt suke!!!!!!!
Smpi trus order siap2 dulu... Then jln2 kjap, pastu kul 715 kitorg dtg tggl mkn..
Ada ramdhan set meal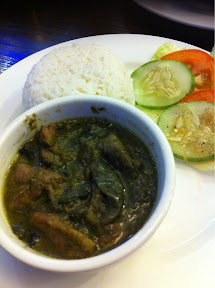 Rice with thai green chicken.. For me.. Yummy weh!!!!
Rice with beef rendang for ensuami .. Pun yummmyyyy weh...
Belgian waffle with ice cream.. Heaven!!!!
Mule2 smpi choc affair ni, dh bersepah air liur aku...
Aduyaiiiiii.. Nikmat....
Mmmm., walawehhhh.. Im speechless..,
Dh smpi aku kenyang tahap tertinggi dh...
Enisteri: abg, klu ayg tak abis, abg marah tak...
Ensuami: marah.. ( smbil jeling aku)
Ok fine.. Aku kna abiskan.. Nnti kna babap!
Aku gigil time nih,, tak tau asal...
Smpi lif, aku dh tak tahan.. Perut aku cam nak meletup!!! Kenyng sgt!!!!!
Adui... Kenyang sgt, smpi tak larat nk jalan...
P/s: tq abg... Love u lebih la cmni...